Req ID: 21064
Vacancy Type: Permanent 
Number of Positions: 1  
Closing Date: 02/03/2022
Job Summary
Under the direction of the Deputy Chief of Training & Technology, co-ordinates and delivers training programs to Fire Department staff and external agencies.  Reports results of tests to the Section Chief and supervises and assists with training conducted by on shift instructors, Company Officers and other MFES staff.
Duties and Responsibilities
Co-ordinates and delivers training programs to staff including provincially certified programs.
Maintains and files complete records of training conducted including personnel training records, apparatus and equipment used.
Manages the safe operation of the training environment and supervises the activities of assigned staff including shift instructors.
Tests and evaluates fire fighters for promotion.
Develops lesson plans, guide sheets, etc., and produces training aids.
Provides comments and recommendations regarding the suitability of probationary personnel.
Provides testing and maintenance programs for specific equipment and records all information.
Keeps abreast of changing local conditions and technological changes in firefighting operations.
Performs public relations duties and creates a desire for learning and advancement.
Maintains professional competency through a commitment to lifelong learning, attendance at conferences and seminars as well as establishing a network of training contacts.
Performs other related duties as required.
Skills and Qualifications
Secondary school graduation, technical school graduation or equivalent combination of education and experience. 
Certification in NFPA 1001, 1002 & 1041 with experience in the Emergency Services.  Must have demonstrated supervisory skills; strong interpersonal skills including the ability to establish effective working relationships and provide quality customer service; excellent oral/written communication and planning skills. 
Shall be familiar with techniques of adult education with knowledge of firefighting equipment, operation and maintenance.  Familiarity with Policies and Procedures of the Fire Service. 
Must be knowledgeable in the preparation and presentation of lectures and demonstrations, lesson plans and skills sheets.
Must possess a valid Class DZ Ontario Drivers licence. 
A Criminal Record Search/Vulnerable Sector Screening will be required upon hire at the candidate's expense, to verify there is no criminal record for which the candidate has not received a pardon.
 
#LI-CMS
Hourly Rate/Salary: $128,581.00 to $138,225.00 
Hours of Work: 40 
Work Location: The Garry W Morden Centre 
Department/Division/Section: CMS/Community Services Dept , CMS/Fire Division , Training and Technology 
Non-Union/Union: Fire 
COVID-19 Update: As per the City's Employee and Volunteer COVID-19 Vaccination Policy, all external candidates (including previously employed individuals) must show their Fully Vaccinated Confirmation or apply for and receive confirmation of a creed or medical exemption from the City before their first day.

A Criminal Record and Judicial Matters Check (Level 2) or Vulnerable Sector Check (Level 3) will be required of the successful candidate, at their own expense, to verify the absence of a criminal record for which a pardon has not been granted.

We thank all who apply, however, only those candidates selected for an interview will be contacted. You can also check your application status in your candidate profile online. 

All personal information is collected under the authority of the Municipal Act. 

We are an Equal Opportunity Employer. In accordance with the Accessibility for Ontarians with Disabilities Act, 2005 and the Ontario Human Rights Code, the City of Mississauga will provide accommodations throughout the recruitment, selection and/or assessment process to applicants with disabilities. If selected to participate in the recruitment, selection and/or assessment process, please inform Human Resources of the nature of any accommodation(s) that you may require in respect of any materials or processes used to ensure your equal participation.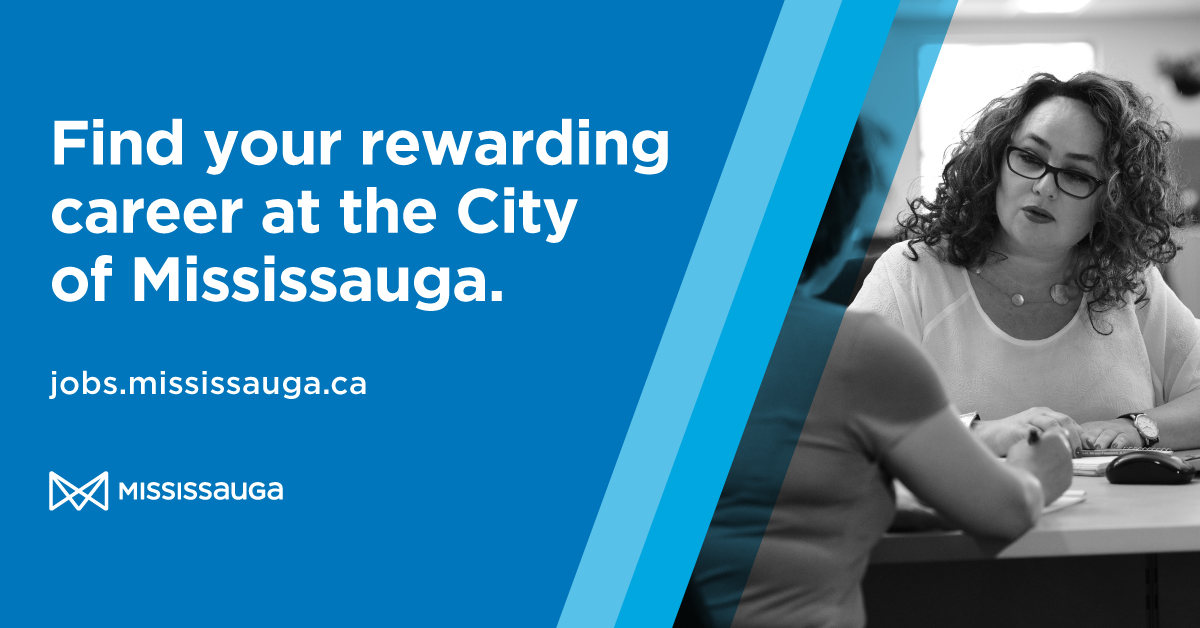 Apply now »