Standards and Training Coordinator
Req ID: 20661
Vacancy Type: Permanent, Hybrid
Number of Positions: 1  
Closing Date: 12/02/2021
Job Summary
Under the direction of the Manager of Standards and Training the successful candidate will coordinate, develop, promote, administer, deliver and facilitate a wide range of Departmental training programs.  
Duties and Responsibilities
Manage Job Required Learning profiles, training needs assessments & compliance audits.

Manage external learning resources & materials; develop & design in-house training materials.

Schedule, promote & process training registrations. Evaluate training data, statistics & prepare recommendations for training requirements.

Recruit & recognize instructors. Consultation with Subject Matter Experts using a variety of learning platforms. Develop online training modules & web-based tools.

Liaise with agencies & regulatory bodies that provide governance that affect training & development for staff. 

Identify & develop required learning/ train the trainer sessions related to quality management, standards & other relevant trainings.

Work with a variety of staff at various levels in Community Services and within the Corporation  

Host various virtual trainings for small and large groups.
Skills and Qualifications
Post-secondary degree/diploma in recreation, adult education/training and development or related field with 3-5 years work experience in a leadership capacity in recreation programming, staff supervision and employee training.  Knowledge of adult learning, curriculum development, instructional design and instructional delivery methods is an asset.

Experience in consulting, project management and strategic planning is essential.  

Must have excellent interpersonal, presentation, problem solving and decision making skills and superior oral and written communication and time management skills. 

Certification in HIGH FIVE Principles of Healthy Child Development (PHCD), Quest 1 and Quest 2 is required. Experience with diverse customer groups and operational knowledge in a variety or service areas is an asset.

Experience with Microsoft Word, Excel, OneNote, Box, Outlook, CLASS, Publisher, and Success Factors InSight Learning, Webex Events and Meetings is preferred. LEAN Certification an asset.

Flexible hours required including early morning, evening and weekend during peak periods.

Must possess a valid driver's license and access to a vehicle. 
#LI-CMS
Hourly Rate/Salary: $ 72,088.00 - $ 96,120.00 
Hours of Work: 35 hours 
Work Location: 201 City Centre Drive 
Department/Division/Section: CMS/Community Services Dept , CMS/Recreation Division , Sport & Community Development 
Non-Union/Union: Non Union 
COVID-19 Update: As per the City's Employee and Volunteer COVID-19 Vaccination Policy, all external candidates (including previously employed individuals) must show their Fully Vaccinated Confirmation or apply for and receive confirmation of a creed or medical exemption from the City before their first day.

A Criminal Record and Judicial Matters Check (Level 2) or Vulnerable Sector Check (Level 3) will be required of the successful candidate, at their own expense, to verify the absence of a criminal record for which a pardon has not been granted.

We thank all who apply, however, only those candidates selected for an interview will be contacted. You can also check your application status in your candidate profile online. 

All personal information is collected under the authority of the Municipal Act. 

We are an Equal Opportunity Employer. In accordance with the Accessibility for Ontarians with Disabilities Act, 2005 and the Ontario Human Rights Code, the City of Mississauga will provide accommodations throughout the recruitment, selection and/or assessment process to applicants with disabilities. If selected to participate in the recruitment, selection and/or assessment process, please inform Human Resources of the nature of any accommodation(s) that you may require in respect of any materials or processes used to ensure your equal participation.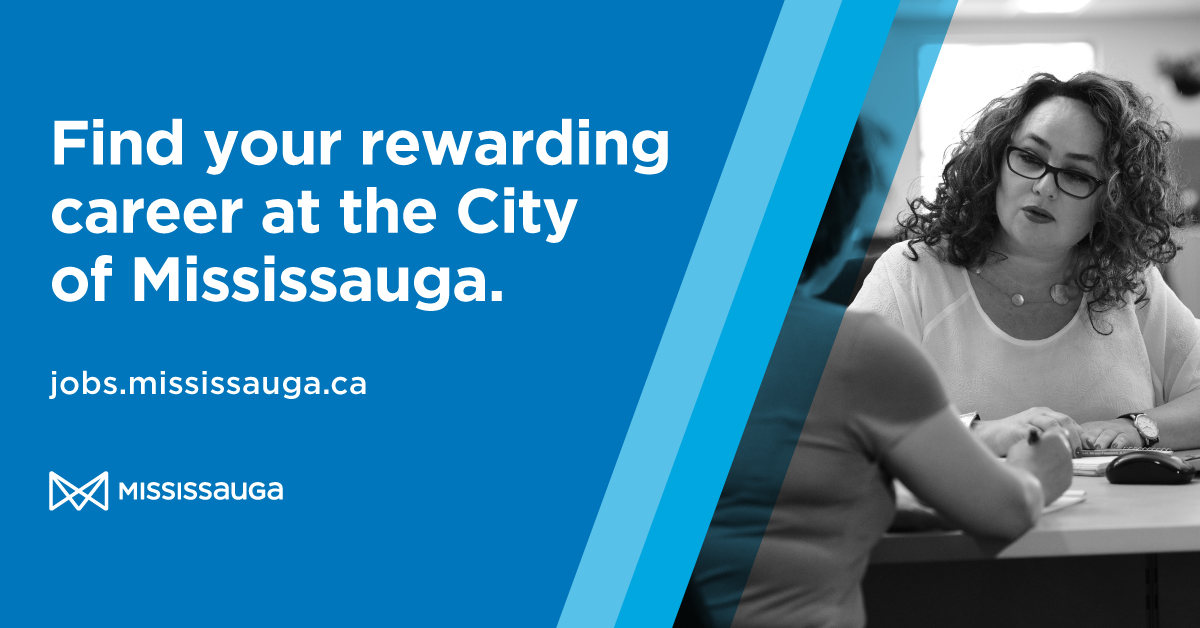 Apply now »