Req ID: 19941
Vacancy Type: Permanent 
Number of Positions: 2  
Closing Date: 12/01/2021
Job Summary
Reporting to Shift Supervisor, Security Operations, the successful candidate will provide exceptional customer service and ensure the safety and security of the patrons and staff of the City of Mississauga.  You will be expected to patrol and inspect property to prevent and respond to any threats to safety and security, enforcing the city's By Laws as a Municipal Law Enforcement Officer. As well you will work within and with the Security Operations Centre that will dispatch you, and which you must keep informed of your situation, location and other relevant information.
Duties and Responsibilities
• Conduct property patrols of all City facilities in accordance with defined procedures, and a focus on Parks and community facilities which requires the ability to walk for extended periods of time
• Staff the operations center as required; enter/maintain/collect information, dispatch resources, conduct radio checks frequently in accordance with policies and procedures, monitor alarms, answer phones
• Assist in emergency response, respond to urgent and potentially volatile situations, investigate suspicious vehicle/activity, provide access to security sensitive areas to authorized individuals; responding to all access and environment alarms, removing unauthorized persons from City property and issue fines and or Trespass Cautions to violators in accordance with the Trespass to Property Act and City By Laws
• Exercise the powers of arrest and detention when required
• Identify hazardous situations which could jeopardize the safety of persons on site; conducting visual checks of facility equipment, investigating personal and property related incidents.
• Assist the public and staff in resolving situations by offering advice and guidance
• Recommend and initiate the removal of unauthorized vehicles when circumstances warrant such actions; directing traffic on City property
• Perform emergency first aid services to public and staff
• Maintain proper care and control of all issued equipment and support materials; conduct daily vehicle inspection/Audits of Control Room apparatus/equipment/vehicle
• Attend Court on bylaw matters for issued fines
• Assist/participate in training needs, including acting as coach officer
• Generate security reports/emails for all incidents in accordance with prescribed procedures
• Perform other duties as assigned
Skills and Qualifications
• College graduate in Law and Security, Police Sciences/Management, or other related program
• Minimum 5 years of experience in or a combination of central alarm monitoring , dispatch, control room, mobile & foot patrol officer position, security, by-law enforcement
• Experience with non-violent crisis intervention practices
• Experience with modern computer controlled systems for card access, lighting, elevators, security and fire alarm systems for large buildings
• Must be computer literate with proficiency in the Microsoft Office suite.
• Strong communication and interpersonal skills are essential with the ability to triage information and prioritize on an ongoing basis
• Must have a working knowledge of the Criminal Code of Canada and Trespass To Property Act
• Must be able to exercise sound judgment, possess honesty, integrity, tact, diplomacy and be customer service oriented.
• Must be qualified in First Aid, CPR
• Must possess a valid driver's license with an excellent driving record and have no criminal convictions for which a pardon has not been granted
• Must be physically fit and able to carry out the responsibilities of the position which includes the ability to pass and maintain certification in use of force techniques, including handcuffing, baton, defensive tactics and de-escalation skills
• This position will require shift work; including days, afternoons, evenings, weekends, holidays, averaging of 80 hours of work over two week pay periods and may involve working alone

The successful candidate must have the ability to meet physical demands of the job such as: sitting for prolonged periods of time, standing, walking, climbing, lifting, foot action, push/pull, gripping, fine finger movements, using extremity motion such as reaching (vertical/horizontal), bending/twisting of back, twisting/turning of neck on patrol; sensory/perceptual demands along with good concentration, attention to detail and ability to deal with frequent exposure to emotionally stressful situations
Must have the ability to carry out the responsibilities of the position which includes the ability to pass and maintain certification in use of force techniques, including handcuffing, baton, defensive tactics and de-escalation skills throughout the course of their employement

DRIVERS' ABSTRACT REQUIREMENT:
Candidates will be required to submit a current 3-Year Driver's Abstract with NO infractions, offences, convictions, demerit points or accidents – no exceptions. Abstracts must be dated within 4 weeks of the date requested.  Please note, applicants which do not meet the criteria for the Driver's Abstract will not be considered in the recruitment process. For information on how to apply for a Driver's Abstract click here.)
#LI-CPS
Hourly Rate/Salary: $ 72,088.00 - $ 96,120.00 
Hours of Work: 40 
Work Location: Civic Centre 
Department/Division/Section: CPS/Corporate Services Dept , CPS/Facil & Property Mgmt Div , Security Services 
Non-Union/Union: Non Union 
COVID-19 Update: As per the City's Employee and Volunteer COVID-19 Vaccination Policy, all external candidates (including previously employed individuals) must show their Fully Vaccinated Confirmation or apply for and receive confirmation of a creed or medical exemption from the City before their first day.

A Criminal Record and Judicial Matters Check (Level 2) or Vulnerable Sector Check (Level 3) will be required of the successful candidate, at their own expense, to verify the absence of a criminal record for which a pardon has not been granted.

We thank all who apply, however, only those candidates selected for an interview will be contacted. You can also check your application status in your candidate profile online. 

All personal information is collected under the authority of the Municipal Act. 

We are an Equal Opportunity Employer. In accordance with the Accessibility for Ontarians with Disabilities Act, 2005 and the Ontario Human Rights Code, the City of Mississauga will provide accommodations throughout the recruitment, selection and/or assessment process to applicants with disabilities. If selected to participate in the recruitment, selection and/or assessment process, please inform Human Resources of the nature of any accommodation(s) that you may require in respect of any materials or processes used to ensure your equal participation.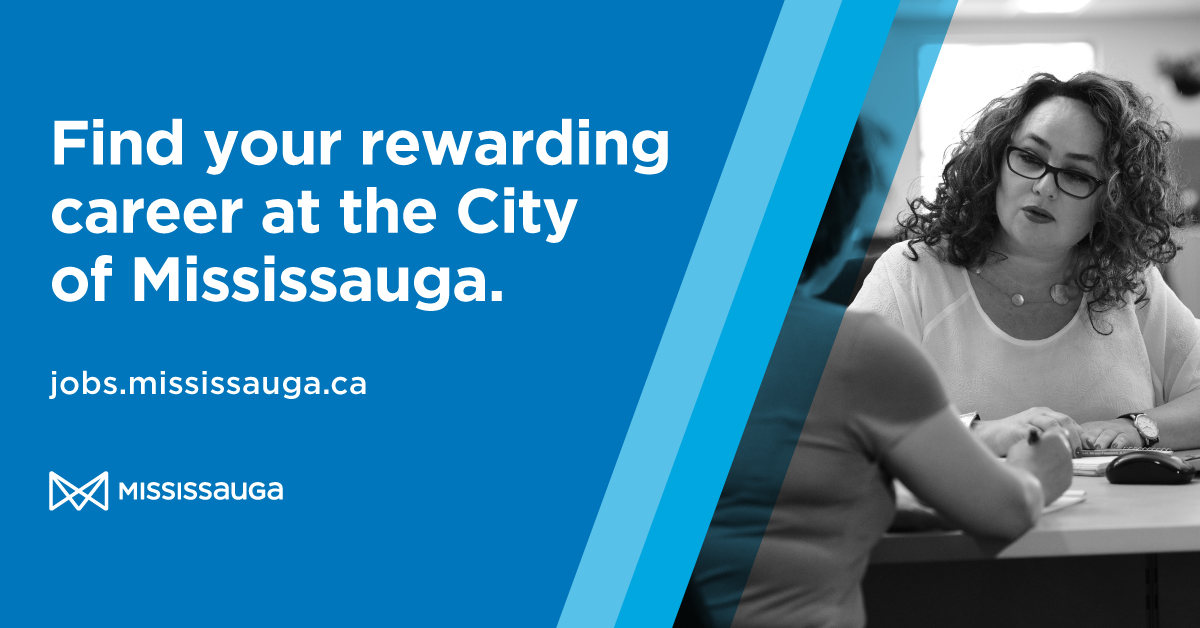 Apply now »