Req ID: 20401
Vacancy Type: Permanent 
Number of Positions: 1  
Closing Date: 12/15/2021
Job Summary
As a Project Coordinator the successful candidate will plan and manage construction projects from conceptual design to commissioning and turnover.
Duties and Responsibilities
Preparation and administration of design contracts ie. RFPs, RFQs and RFTs
Provision of direction to consultants of all disciplines
Development of project implementation schedules, liaison with clients and authorities with jurisdiction
Development and preparation of project budgets,
Review of drawings and specifications, development of construction contracts, construction supervision, project financial management, project commissioning and collaboration with other divisional staff. 
Provides direction to consultants of all disciplines to ensure that all projects are completed on time, within the approved budget and specifications and that construction practices comply with safety guidelines for construction projects.
Perform other duties as assigned.
Skills and Qualifications
Post-secondary Technician/Technologist diploma in Architectural or Mechanical Technology or a relevant discipline, with a minimum of 5 years' experience in design and project management of construction projects, administering contracts and managing contractors and consultants or an equivalent combination of education and work experience (Equivalent experience will be considered in lieu of educational requirements)
Experience with building lifecycle replacement projects i.e. architectural/structural/mechanical/electrical systems is an asset.
LEED and PMP designations are preferred. 
Experience in estimating, preparation of specifications and tender documents.
Experience in preparing and administering consulting and construction agreements.
Must be able to read and interpret drawings and specifications and have strong trouble shooting and problem solving skills. 
Knowledgeable of the Occupational Health and Safety Act, OBC, NFPA, ASHRAE, as it applies to construction projects. 
Excellent time management skills in managing workload and work schedules. 
Basic accounting and financial management skills pertaining to projects. 
Solid writing and presentation skills. 
Strong inter-personal skills and the ability to negotiate effectively. 
Commitment to working in a team-based environment with a focus on continuous improvement and quality customer service.
#LI-CPS 
Hourly Rate/Salary: $ 72,088.00 - $ 96,120.00 
Hours of Work: 35 
Work Location: 950 Burnhamthorpe Rd W 
Department/Division/Section: CPS/Corporate Services Dept , CPS/Facil & Property Mgmt Div , Capital Design and Construction 
Non-Union/Union: Non Union 
COVID-19 Update: As per the City's Employee and Volunteer COVID-19 Vaccination Policy, all external candidates (including previously employed individuals) must show their Fully Vaccinated Confirmation or apply for and receive confirmation of a creed or medical exemption from the City before their first day.

A Criminal Record and Judicial Matters Check (Level 2) or Vulnerable Sector Check (Level 3) will be required of the successful candidate, at their own expense, to verify the absence of a criminal record for which a pardon has not been granted.

We thank all who apply, however, only those candidates selected for an interview will be contacted. You can also check your application status in your candidate profile online. 

All personal information is collected under the authority of the Municipal Act. 

We are an Equal Opportunity Employer. In accordance with the Accessibility for Ontarians with Disabilities Act, 2005 and the Ontario Human Rights Code, the City of Mississauga will provide accommodations throughout the recruitment, selection and/or assessment process to applicants with disabilities. If selected to participate in the recruitment, selection and/or assessment process, please inform Human Resources of the nature of any accommodation(s) that you may require in respect of any materials or processes used to ensure your equal participation.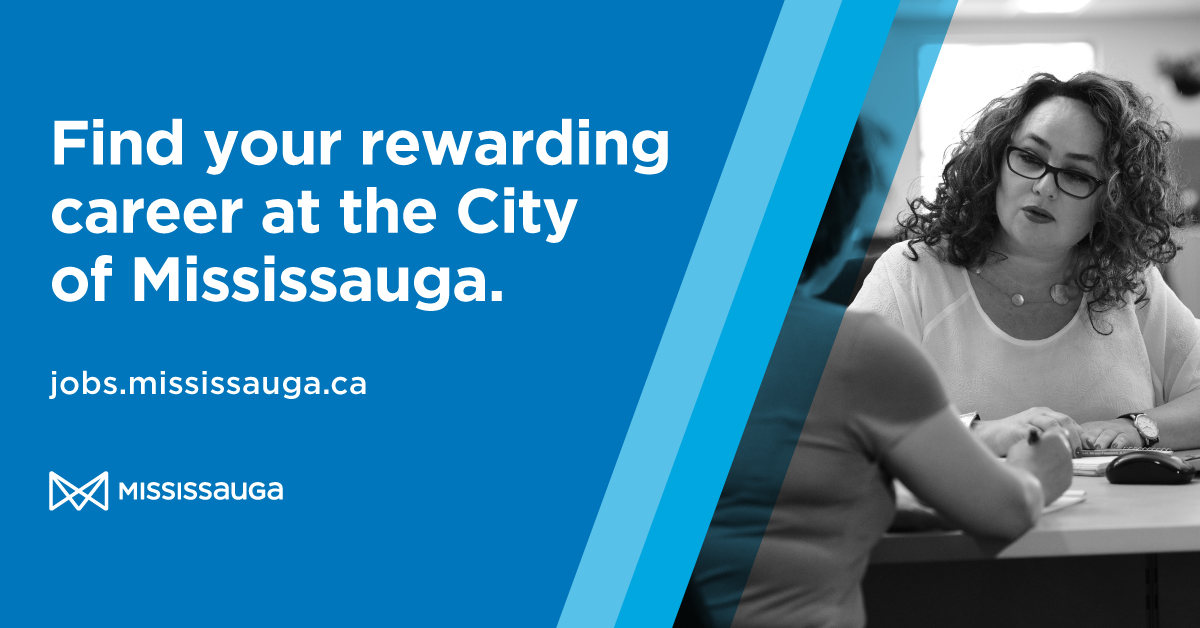 Apply now »