Program Manager, IT Client Services
Req ID: 17481
Vacancy Type: Permanent 
Number of Positions: 1  
Closing Date: 12/01/2021
Job Summary
The IT Helpdesk Program Manager role is responsible for managing the first level helpdesk within Service Management. The IT Helpdesk Program Manager plays a large part in leading, motivating, coaching and monitoring the activities of all first level helpdesk staff, helpdesk specialists, and the helpdesk supervisor.  In addition, the IT Helpdesk Program Manager also acts as the Major Incident Manager and is the system administrator for the Microsoft System Centre Service Management / Service Now platforms.  The IT Helpdesk Program Manager position is fast paced, ever changing, requires flexibility, self-initiative, excellent customer service, communication, and regular management of staff and service levels.
Duties and Responsibilities
Under the direction of the Manager, Service Management, the successful candidate will:
Lead, manage, coach and motivate the first level helpdesk staff, helpdesk specialists, and the helpdesk supervisor on a daily basis to achieve goals and milestones.
Ensure the IT Helpdesk is providing a positive customer service experience to all internal clients.
Develop and maintain internal process documentation ensuring a consistent delivery of service.
Evaluate metrics from the IT Helpdesk software and develop solutions to address common issues, identify trends, and proactively address issues where applicable.
Develop key metric reports for both the IT Helpdesk service and call management, utilizing a variety of software tools to be distributed to senior management and stakeholders.
Track, maintain and ensure that helpdesk KPIs are met and manage SLAs with internal clients.
Provide support for project transition to operations as required.
Manage external trainer vendors and contracts.
Prepare capital and current budget recommendations for the IT helpdesk section.
Achieve service excellence as part of a high-performance team.
Conduct staff performance appraisals.
Administer the Microsoft System Centre Service Manager and Service now Service Management platforms.
Build and enhance  governance, service level agreements, contingency plans and guidelines
Promote a positive work environment through demonstrated initiative and leadership by example
Perform other duties as assigned.
    
Skills and Qualifications
Post-secondary degree/diploma in Information Technology, business or related discipline with a minimum 3-5 years management or supervisory experience in an information technology role or an equivalent combination of education and related experience.
Must be proactive and possess strong interpersonal, customer service, communication and organizational skills.
Must possess excellent written and verbal presentation skills.
Must be self motivated and possess a "can do" attitude.
Must be able to quickly acquire a working knowledge of multiple applications and processes.
Must be proficient with the Windows operating system, Microsoft Office, and related support tools.
Must be able to handle multiple priorities and manage available resources accordingly in a fast-paced environment.
Ability to understand customer needs by analyzing help desk and survey data.
Ability to work well with others and across functional teams.
Ability to manage and resolve conflict with clients and within the Help desk team.
Experience with Microsoft Service Centre System Manager or ServiceNow Service management software is an asset.
Knowledge of ITIL v4 in an asset.
Knowledge of Incident Management Process workflows are an asset.
Knowledge of KCS v6 is an asset.
Knowledge of LEAN methodology is an asset.
Hourly Rate/Salary: $ 102,639.00 - $ 136,847.00 
Hours of Work: 35 
Work Location: Civic Centre 
Department/Division/Section: CPS/Corporate Services Dept , CPS/IT Division , Service Management 
Non-Union/Union: Non Union 
COVID-19 Update: As per the City's Employee and Volunteer COVID-19 Vaccination Policy, all external candidates (including previously employed individuals) must show their Fully Vaccinated Confirmation or apply for and receive confirmation of a creed or medical exemption from the City before their first day.

A Criminal Record and Judicial Matters Check (Level 2) will be required of the successful candidate, at their own expense, to verify the absence of a criminal record for which a pardon has not been granted.

We thank all who apply, however, only those candidates selected for an interview will be contacted. You can also check your application status in your candidate profile online. 

All personal information is collected under the authority of the Municipal Act. 

We are an Equal Opportunity Employer. In accordance with the Accessibility for Ontarians with Disabilities Act, 2005 and the Ontario Human Rights Code, the City of Mississauga will provide accommodations throughout the recruitment, selection and/or assessment process to applicants with disabilities. If selected to participate in the recruitment, selection and/or assessment process, please inform Human Resources of the nature of any accommodation(s) that you may require in respect of any materials or processes used to ensure your equal participation.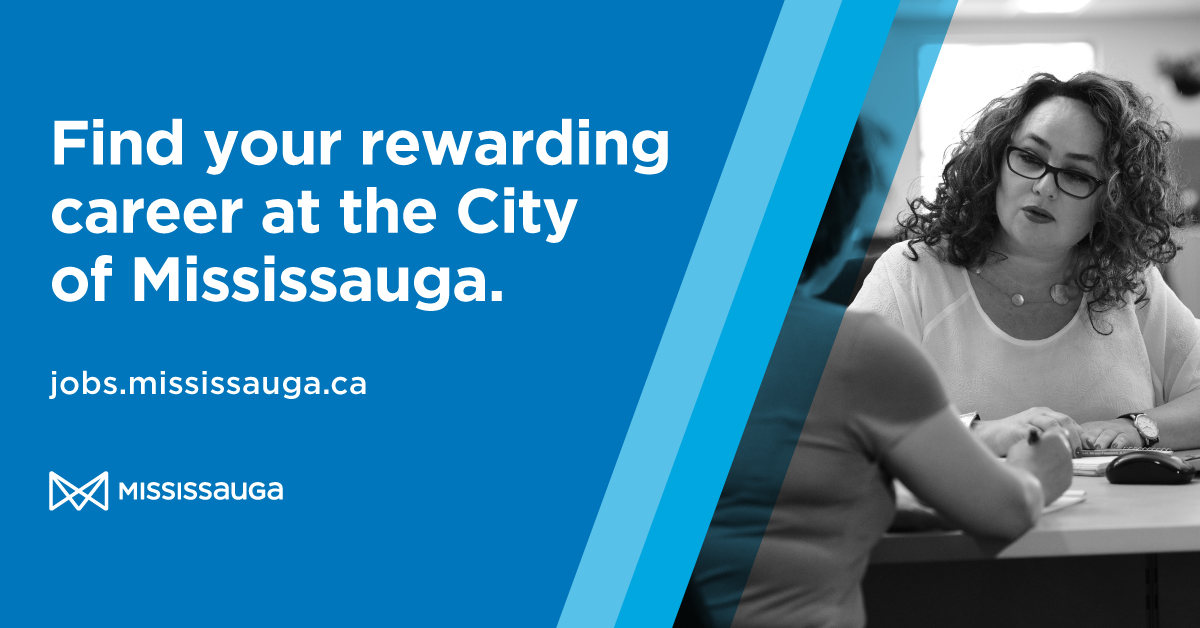 Apply now »