Req ID: 20564
Vacancy Type: Combination 
Number of Positions: 2  
Closing Date: 12/06/2021
Job Summary
Mississauga's City Planning Strategies Division is looking for up to two Planners to strengthen our growing team.  We are seeking candidates who are passionate about planning and able to provide wide ranging technical advice to Council, City staff, stakeholders and the public to guide growth and development in the City of Mississauga.  We are seeking Planner/s who can balance multiple priorities and work through complex problems to deliver a broad range of planning reports, projects and by-laws.
Duties and Responsibilities
As a member of the City Planning Strategies Division, you will be required to:
Review and prepare official plan policies and zoning by-laws
Prepare land use and community plans
Develop policy advice and documents to implement Provincial and Regional polices and plans
Work with and lead other professionals and multi-disciplinary teams on projects, analyses and issue resolution
Support the development of strategic intelligence gathering, analyzing data, trends, monitoring and reporting on planning metrics, stakeholder positions and activities as well as government and non-government initiatives.
Research, prepare and present reports on policy matters to City Council and Committees of Council
Represent the City Planning Strategies Division on inter-department and inter-agency projects
Testify before the Local Planning Appeal Tribunal (LPAT)
Participate in or lead special studies that advance the implementation of Council priorities
Write reports, summaries, fact sheets, briefing notes, memoranda, web and other media content to communicate information
Must have ability to conduct occasional site visits and attend on-site meetings, some evening and weekend meetings
Perform other related duties as may be assigned
Skills and Qualifications
A university degree in urban planning, urban geography or a related discipline with approximately five years of policy or land use planning experience including:
Approximately five years in positions of increasing responsibility in the field of urban planning
Membership or eligibility for membership in Ontario Planners Institute and Canadian Institute of Planners is preferred
Knowledge of Provincial policies and plans
Highly developed creative thinking, problem solving, research, analytical, report writing, oral and written communication is essential
Demonstrated ability to work with stakeholders and achieve project objectives in a timely manner
Organization and project management skills are required 
Knowledge of planning trends, market conditions and forecasting is an asset
Experience working with Esri products, Excel or Tableau is considered an asset
 #LI-PB 
Hourly Rate/Salary: $ 82,049.00 - $ 109,400.00 
Hours of Work: 35 
Work Location: Civic Centre 
Department/Division/Section: P&B/Planning & Building Dept , P&B/City Planning Strategies , Planning Strategies 
Non-Union/Union: Non Union 
COVID-19 Update: As per the City's Employee and Volunteer COVID-19 Vaccination Policy, all external candidates (including previously employed individuals) must show their Fully Vaccinated Confirmation or apply for and receive confirmation of a creed or medical exemption from the City before their first day.

A Criminal Record and Judicial Matters Check (Level 2) or Vulnerable Sector Check (Level 3) will be required of the successful candidate, at their own expense, to verify the absence of a criminal record for which a pardon has not been granted.

We thank all who apply, however, only those candidates selected for an interview will be contacted. You can also check your application status in your candidate profile online. 

All personal information is collected under the authority of the Municipal Act. 

We are an Equal Opportunity Employer. In accordance with the Accessibility for Ontarians with Disabilities Act, 2005 and the Ontario Human Rights Code, the City of Mississauga will provide accommodations throughout the recruitment, selection and/or assessment process to applicants with disabilities. If selected to participate in the recruitment, selection and/or assessment process, please inform Human Resources of the nature of any accommodation(s) that you may require in respect of any materials or processes used to ensure your equal participation.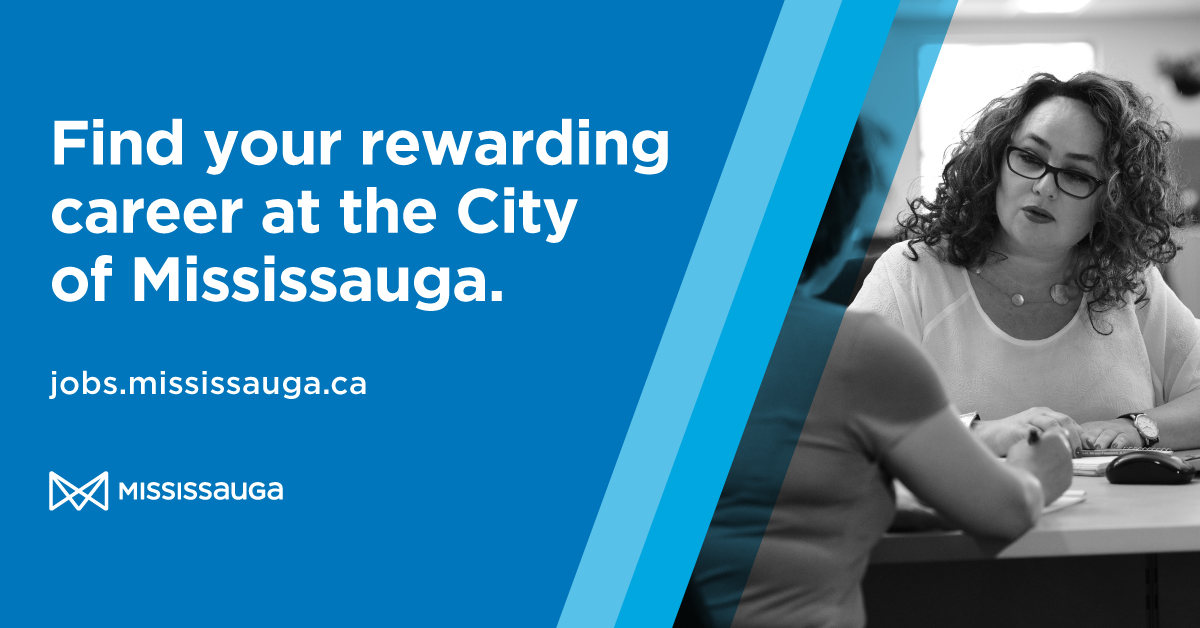 Apply now »