Req ID: 21654
Vacancy Type: Permanent 
Number of Positions: 1  
Closing Date: 07/11/2022
Job Summary
The City of Mississauga is looking to advance on its strategic goal of becoming a transit-oriented City. As a result, the Transportation and Works Department is looking for a Manager of Rapid Transit, Third Party to join our team! Your role as a strategic leader will be to ensure and oversee our strategic relationships with partner agencies and senior levels of government, manage and administer complex technical relationships with utility agencies and coordinate the negotiation operational agreements with our third party partners.  This will include setting clear goals and motivating your team to support the City's priority transit projects through the development and implementation of new or modified permitting, plan review and maintenance processes
Duties and Responsibilities
Reporting to the Director, Rapid Transit Program Office, the successful candidate will be responsible for:
Providing leadership and direction to the project team in the Third Party Section and being accountable for the development and delivery of the Section's Work Program
Lead the Third Party Section in its support of the Division's delivery of the City's priority rapid transit projects including the HuLRT, Dundas BRT and Lakeshore BRT with a primary focus on managing relationships with key third party partners, establishing permitting protocols, processes and agreements and negotiating foundational agreements to support the City's rapid transit program (operational service agreements, technical review protocols/agreements, etc 
Leading, managing, supporting, and motivating direct reports. Ensuring effective teamwork, high standards of work quality, organization performance, continuous learning and encouraging innovation and efficient use of staff, financial and physical resources.
Managing City resources in maintaining and advancing the City's strong working relationships with our key partners including the Region of Peel, Metrolinx, MTO, public utility agencies, partner municipalities and transit-related agencies 
Lead the Third Party Section in its support of the Division's delivery of the City's priority rapid transit projects including the HuLRT, Dundas BRT and Lakeshore BRT 
Represent the Division and the City on key project and broader coordinating committees (internal and external) as a liaison with rapid transit project partners  
Working with a variety of government-related agencies, City departments, community groups and consultants concerning the integration of a broad range of City-building initiatives with these and other rapid transit initiatives.
Establishing and monitoring short-range and long-range project goals, budgets, schedules, progress, and strategies.
Insuring coordinated and consistent reporting of issues and communications at all levels and with large and complex sets of stakeholders and constituencies.
Directing performance of services by consultants and contractors for successful project deliverables and milestones.
Quickly developing an understanding of the political environment and ways in which to navigate it while securing buy-in and achieving deliverables.
Attending Council and public meetings and preparing Corporate Reports.
 
Skills and Qualifications
Post-secondary education in Engineering, Planning or a related field with additional education related to project management
Professional designation – P.Eng., RPP or equivalent
PMP designation an asset
Minimum 10 years of progressive experience in transit planning or engineering
Demonstrated experience with municipal permitting, Municipal Access Agreements and other technical and operational agreements
Experience in supervising, motivating, training and managing a diverse group of employees
Ability to promote and foster teamwork within the Section and as a member of Rapid Transit Program Office management team
Demonstrated experience and technical expertise in the completion of Environmental Assessments for transit projects and other supporting studies, preferably in the public sector
Previous work experience with the Ministry of Environment, Conservation and Parks' Environmental Assessment (EA) process and Transit Project Assessment Process (TPAP) is preferred
Familiarity with relevant pieces of legislation, regulations and standards
Demonstrated experience in the design and delivery of rapid transit projects
Demonstrated project management best practices and experience overseeing large infrastructure projects
Ability to work with inter-disciplinary teams to find an optimal balance of technical, operational and urban design with respect to transportation projects
Demonstrated political acuity within a high profile environment
Advanced communication and presentation skills with the ability to communicate complex technical information to a wide variety of audiences and stakeholder groups
Strong strategic and analytical skills balanced with a pragmatic, results-oriented approach
Demonstrated judgment and decision making skills with the ability to determine an effective course of action that drives progression
Solid understanding of public transportation/transit industry and trends is highly desirable
Proven ability to coach and develop internal staff and consultants
Excellent writing ability to prepare detailed business proposals and other related reports in a transparent and accountable manner adhering to strict financial controls and reporting
Leadership competencies include strategic agility, business acumen, communication and relationship building, developing culture and people and driving change
 
Hourly Rate/Salary: $ 125,551.00 - $ 167,401.00 
Hours of Work: 35 
Work Location: 201 City Centre Drive 
Department/Division/Section: T&W/Transportation&Works Dept , T&W/Rapid Transit Program Office , Rapid Transit - Third Party 
Non-Union/Union: Non Union 
COVID-19 Update: As per the City's Employee and Volunteer COVID-19 Vaccination Policy, all external candidates (including previously employed individuals) must show their Fully Vaccinated Confirmation or apply for and receive confirmation of a creed or medical exemption from the City before their first day.

A Criminal Record and Judicial Matters Check (Level 2) or Vulnerable Sector Check (Level 3) will be required of the successful candidate, at their own expense, to verify the absence of a criminal record for which a pardon has not been granted.

We thank all who apply, however, only those candidates selected for an interview will be contacted. You can also check your application status in your candidate profile online. 

All personal information is collected under the authority of the Municipal Act. 

We are an Equal Opportunity Employer. In accordance with the Accessibility for Ontarians with Disabilities Act, 2005 and the Ontario Human Rights Code, the City of Mississauga will provide accommodations throughout the recruitment, selection and/or assessment process to applicants with disabilities. If selected to participate in the recruitment, selection and/or assessment process, please inform Human Resources of the nature of any accommodation(s) that you may require in respect of any materials or processes used to ensure your equal participation.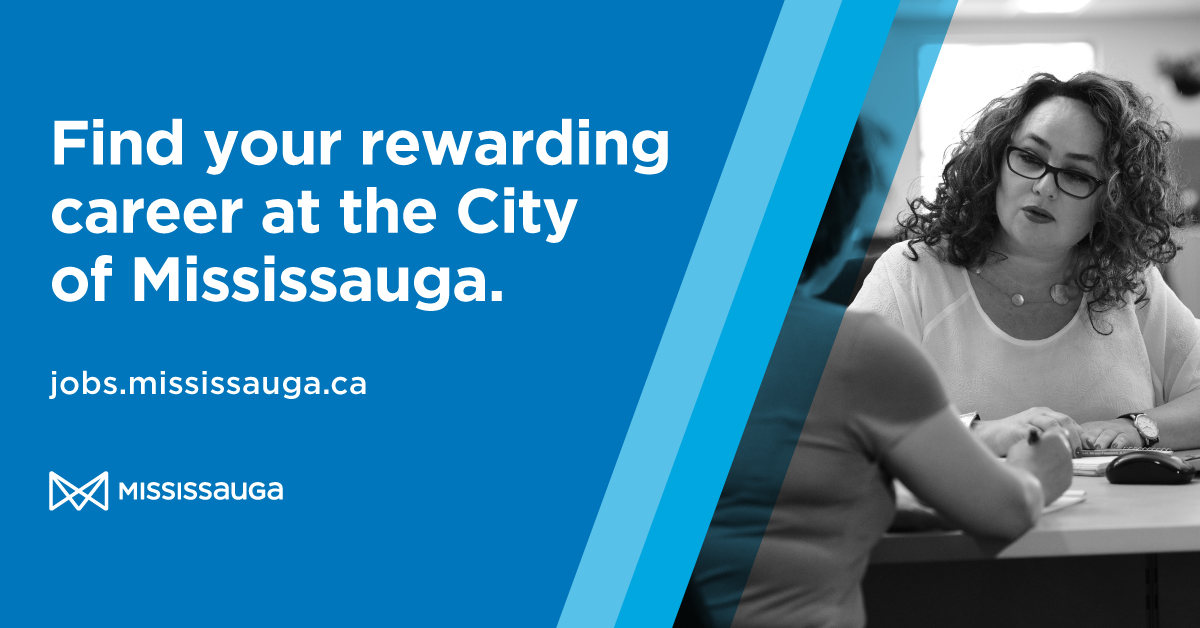 Apply now »