Req ID: 21485
Vacancy Type: Permanent 
Number of Positions: 1  
Closing Date: 05/18/2022
Job Summary
Reporting to the Manager, Development Financing & Reserve Management; the Financial Analyst is responsible for taking a lead role in the calculations and processing of invoice issuance of growth funding tools. On an on-going basis, ensure accuracy, compliance and timeliness of invoice issuance, reports, agreements and development forecasts. This position is also responsible for understanding of related legislation, monthly revenue reporting, reconciliations, remittance of payments to key agencies, and other financial analysis. Understanding of the planning application process and building permit issuance is required.
This position will be required to work in a hybrid work arrangement (some work from home and some work in the office) for an undetermined period. Once the City's offices fully re-open, you will be required to work out of Mississauga City Hall at 300 City Centre Drive (possibly on a rotational basis).
Duties and Responsibilities
The successful candidate will:
Play a leading role in growth funding calculations and invoice issuance.
Coordinates and works with external auditors and other external agencies (e.g. Region of Peel, School Boards) as required.

Reconcile assigned GL accounts monthly and prepare necessary journal entries related to growth charges revenue; assist in the closing of period-end and year-end processes as required.

Completes monthly and quarterly growth charges funding reporting; ensures financial results are produced accurately and in a timely manner.

Take a lead role and subject matter expert in researching related growth funding issues and changes to legislation.

Recommend improvements on the calculation of growth charges and processes.

Implement Lean improvements and processes to create efficiencies that reduce time, duplication and effort.

Utilize appropriate applications, including MAX, Sharepoint, Excel, SAP to generate growth charges calculations, produce invoices, reports and legal agreements.

Consolidate financial information and report, drafting and editing financial presentations.

Prepare forecasts and provide explanations on trends and hot spots.

Prepare costing scenarios and funding options; create financial models to forecast revenues and costs.

Adhere to the recommendations set forth in the Public Standard Accounting Board (PSAB) and the CPA Canada handbook.

Participate in implementation projects within Finance and the rest of the organization as required. Provides ad hoc assistance on projects/initiatives within the unit/team.

Uses information that is stored within the unit/team and/or available without special authorization

.

Other duties as assigned.
Skills and Qualifications
University or college education (or in progress) in business administration, commerce, finance or related fields

or a professional

accounting designation (CMA, CGA, CA), or equivalent.
3-5 years of experience in planning and building application processes, development forecasting and financial reporting. Preference to municipal public sector experience.
Knowledge of General Accounting Principles.
Exceptional analytical skills and the ability to generate insights through large data sets through MS Office products. A strong proficiency in Microsoft Excel is a essential.
Knowledge and use of SAP or other large scale ERP systems is required.

Knowledge and understanding of development planning and the building application processes, as well as development trends in Mississauga and the GTA.

A strong ability to influence without authority and to work independently on new and emerging projects and tasks.

Strong presentation and communication skills, including the ability to convey complex information in a clear and concise manner.

A track record of meeting tight working deadlines and prioritizing work is essential within designated working hours.

Knowledge of Development Charges Act, Planning Act and other related legislation.

High attention to detail required and ability to prioritize tasks.

A Level 2- Criminal or Judicial Matters Check (previously Regular CRS) will be required of the successful candidate, as a condition of employment, at their own expense, to verify the absence of a criminal record for which a pardon has not been granted. 
Hourly Rate/Salary: $ 83,485.00 - $ 111,315.00 
Hours of Work: 35 
Work Location: Civic Centre 
Department/Division/Section: CPS/Corporate Services Dept , CPS/Finance Division , Financial Strategies 
Non-Union/Union: Non Union 
COVID-19 Update: As per the City's Employee Recruitment Policy, all external candidates (including previously employed individuals) must show their Fully Vaccinated Confirmation or apply for and receive confirmation of a creed or medical exemption from the City before their first day.

A Criminal Record and Judicial Matters Check (Level 2) will be required of the successful candidate, at their own expense, to verify the absence of a criminal record for which a pardon has not been granted.

We thank all who apply, however, only those candidates selected for an interview will be contacted. You can also check your application status in your candidate profile online. 

All personal information is collected under the authority of the Municipal Act. 

We are an Equal Opportunity Employer. In accordance with the Accessibility for Ontarians with Disabilities Act, 2005 and the Ontario Human Rights Code, the City of Mississauga will provide accommodations throughout the recruitment, selection and/or assessment process to applicants with disabilities. If selected to participate in the recruitment, selection and/or assessment process, please inform Human Resources of the nature of any accommodation(s) that you may require in respect of any materials or processes used to ensure your equal participation.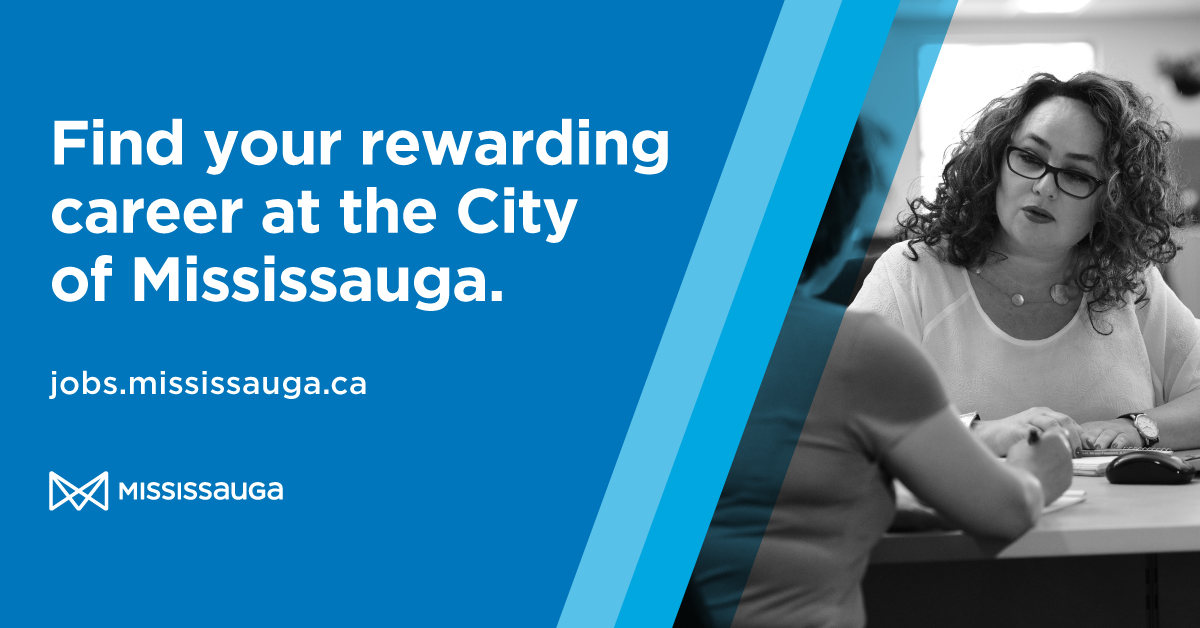 Apply now »