Digital Content Consultant
Req ID: 20582
Vacancy Type: Permanent 
Number of Positions: 1  
Closing Date: 12/03/2021
Job summary
The City of Mississauga has an opportunity for a senior level digital content writer to join our Digital Strategy and Experience Team. The successful applicant will design website content for Mississauga.ca and deliver digital content strategies and implementation to internal business service areas. Using strong research and best practices for digital in public and private sector organizations, the successful applicant will provide consultation and leadership on matters related to writing for the web, content management, style guides, and customer-centric methodologies.

About the team
The Digital Strategy and Experience Team is working with people across our organization to make the City's online services and information simpler, clearer and faster for citizens and businesses. We're all about focusing on the customer, designing with evidence, and measuring our results. We work collaboratively and iteratively, so you'll be expected to work with our entire team, on many or all of our projects, sometimes on short notice. That means working with developers, designers, subject matter experts, and senior management - anyone we need to, to help us produce world-class online services.
 
About you
As a Digital Content Consultant, you understand the art and science of writing for the web. You are a versatile writer, a seasoned editor, and a proven online content expert with considerable experience using customer insights. You are web savvy, and accustomed to working alongside technical and creative staff on large scale digital initiatives.
 
Duties and responsibilities
Working  alongside a team of content designers, you will be responsible for developing and executing digital content plans that support initiatives that create great customer experiences. You will lead the planning, writing, and activation of accessible, user-focused content on hundreds of topics, while developing and implementing new City-wide standards for content style and governance.  This position will require up to 50% of time spent on writing and editing projects.
 
You'll need to:
•    Scope, write, edit and deliver digital content about complex topics that is clear, optimized for the web and supports customer journeys and business goals
•    Develop and design web content that adheres to industry best practices (SEO, accessibility, plain language) and aligns with Mississauga's Digital Strategy
•    Provide leadership and consultation that supports a customer-centric approach; discover customer and stakeholder expectations and priorities, and develop content to meet the needs that the public has of Government
•    Collaborate with cross-functional teams to develop and maintain corporate standards and procedures related to web writing, content management, and style guides for official City Government website content
•    Provide coaching, training, leadership and guidance to departmental teams for matters related to digital content design, and enhance knowledge of corporate content standards with a wide variety of internal stakeholders
•    Analyze Voice of the Customer feedback and utilize quality assurance tools to ensure digital content focuses on user needs and experience
•    Demonstrate the ability to effectively proof-read, edit, and provide approvals of other editors' content in a collaborative and diplomatic manner
•    Initiate and manage projects to implement the Digital Strategy, in partnership with the appropriate City staff and representatives and stakeholders from other City Departments
•    Report on website performance as it relates to content optimization
•    Be an advocate for Corporate Business Services Division to train and develop colleagues into great web writers.
 
Skills and Qualifications
•    University degree or diploma in digital communications, journalism, digital marketing or related field
•    Minimum of seven years progressive business experience with a proven track record in digital communications; preferably with a focus on customer experience in a large corporate or government setting
•    Experience leading editorial strategy for information, transactional sites or business verticals
•    Power user who has personal and professional experience in all facets of web
•    Excellent editorial skills including producing proposals and content briefs, writing accessible content for diverse audiences, proof-reading and copy-editing, and creating editorial guidelines and documentation
•    Extensive experience writing for digital projects involving complex topics, conducting site content audits, writing project plans, and repurposing content to tight deadlines
•    Experience in working with WordPress and other content publishing systems
•    Knowledge of using customer feedback to improve or refine web page content through user surveys analytics tools
•    Highly developed conflict resolution, project management, time management, organizational, inter-personal and problem-solving skills
•    Portfolio of projects that demonstrate your ability to structure and optimize online information, and write great content for the web in plain English
We also would like you to have:
•    The ability to lead project meetings; gain consensus for your strategies; and drive actionable outcomes
•    Understanding of information architecture, user experience testing, iterative, agile methodologies
 
#LI-CPS 
Hourly Rate/Salary: $ 82,049 - $ 109,400 
Hours of Work: 35 
Work Location: Civic Centre 
Department/Division/Section: CPS/Corporate Services Dept , CPS/Corporate Business Services Division , Digital Strategy & Experience 
Non-Union/Union: Non Union 
COVID-19 Update: As per the City's Employee and Volunteer COVID-19 Vaccination Policy, all external candidates (including previously employed individuals) must show their Fully Vaccinated Confirmation or apply for and receive confirmation of a creed or medical exemption from the City before their first day.

A Criminal Record and Judicial Matters Check (Level 2) or Vulnerable Sector Check (Level 3) will be required of the successful candidate, at their own expense, to verify the absence of a criminal record for which a pardon has not been granted.

We thank all who apply, however, only those candidates selected for an interview will be contacted. You can also check your application status in your candidate profile online. 

All personal information is collected under the authority of the Municipal Act. 

We are an Equal Opportunity Employer. In accordance with the Accessibility for Ontarians with Disabilities Act, 2005 and the Ontario Human Rights Code, the City of Mississauga will provide accommodations throughout the recruitment, selection and/or assessment process to applicants with disabilities. If selected to participate in the recruitment, selection and/or assessment process, please inform Human Resources of the nature of any accommodation(s) that you may require in respect of any materials or processes used to ensure your equal participation.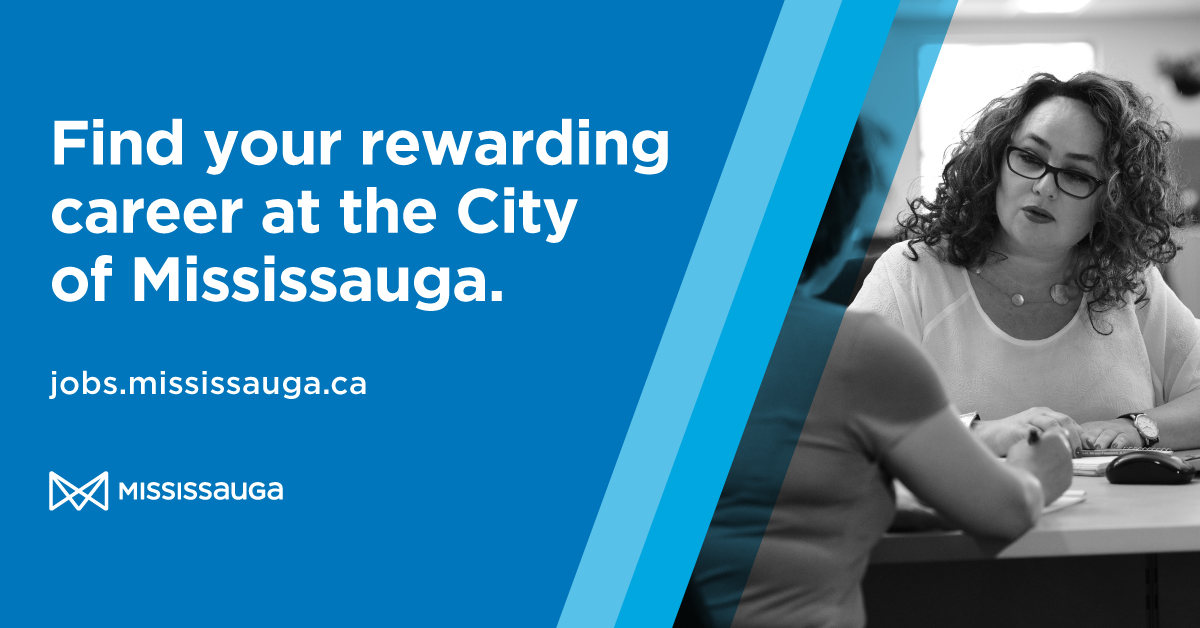 Apply now »