Req ID: 20588
Vacancy Type: Permanent 
Number of Positions: 1  
Closing Date: 12/09/2021
Job Summary
Under the direction of the Manager of Vital Statistics /Secretary Treasurer of the Committee of Adjustment, this position provides administrative support to Committee of Adjustment staff by utilizing advanced computer skills and strong organizational abilities to aid in the efficient day-to-day operation of the team.
Duties and Responsibilities
•    Preparation of meeting agendas in the MAX system by entering new meeting dates and times
•    Enter meeting dates and times in Sharepoint to create Notices, as well as use Sharepoint to create folders for each application – circulation map and mailing lists, resident contact information, previous decisions, staff comment memo, aerial photo, signage information, etc.
•    Electronically post notices, meeting agendas, staff comments and Committee decisions using eScribe
•    Provide Notices and mailing lists to the Print Shop
•    Send sign notice wording inserts to applicants, prepare sign boards and ensure there is a supply available at the Welcome Desk
•    Assemble meeting agendas in Adobe Pro and distribute to Committee of Adjustment members, staff, agencies and applicants 
•    Receive in-person payments for deferred files
•    Time stamp the Committee of Adjustment hearings (videos)
•    Monitor virtual hearing help inbox during meetings
•    Provide attendance of the Committee of Adjustment members to the Time and Labour representative
•    Enter status of each file in Sharepoint and MAX following the meeting and where applicable, prepare and distribute decisions and final and binding Notices
•    Ensure plans endorsed by the Committee are attached to the Decisions for perpetual retention
•    Co-ordinate order of supplies for the sign boards
•    Maintain accurate monthly spreadsheets of all payments by file type and status
•    Annually close files on the MAX system and reset system for renumbering new files for the following calendar year
•    Compile and submit appeal documentation to the Ontario Land Tribunal for appeals submitted to the municipality under the Planning Act
•    Back up for Vital Statistics Assistants for weekend burial permit issuance 
•    Perform other duties as assigned
 
Skills and Qualifications
•    Post-secondary education in Administration or Political Science with a minimum of two to three years related experience in a municipal government environment, or equivalent combination of education and experience
•    Demonstrated proficiency with Microsoft Office (Word, Excel and PowerPoint), eScribe, Sharepoint, Adobe Pro and Outlook
•    Ability to deal with all levels of staff and members of the public
•    Strong organizational and interpersonal skills are required
•    Candidates must possess the ability to work on own initiative to meet deadlines and respond to multiple priorities
•    Aptitude for details and processes, high level of accuracy and attention to detail
•    Ability to maintain a high standard of confidentiality
•    Able to interpret and follow City policies, procedures and administrative practices
 
#LI-CPS 
Hourly Rate/Salary: $ 48,932.00 - $ 65,243.00 
Hours of Work: 35 
Work Location: Civic Centre 
Department/Division/Section: CPS/Corporate Services Dept , CPS/Office of the City Clerk , Vital Stats and Com of Adj 
Non-Union/Union: Non Union 
COVID-19 Update: As per the City's Employee and Volunteer COVID-19 Vaccination Policy, all external candidates (including previously employed individuals) must show their Fully Vaccinated Confirmation or apply for and receive confirmation of a creed or medical exemption from the City before their first day.

A Criminal Record and Judicial Matters Check (Level 2) or Vulnerable Sector Check (Level 3) will be required of the successful candidate, at their own expense, to verify the absence of a criminal record for which a pardon has not been granted.

We thank all who apply, however, only those candidates selected for an interview will be contacted. You can also check your application status in your candidate profile online. 

All personal information is collected under the authority of the Municipal Act. 

We are an Equal Opportunity Employer. In accordance with the Accessibility for Ontarians with Disabilities Act, 2005 and the Ontario Human Rights Code, the City of Mississauga will provide accommodations throughout the recruitment, selection and/or assessment process to applicants with disabilities. If selected to participate in the recruitment, selection and/or assessment process, please inform Human Resources of the nature of any accommodation(s) that you may require in respect of any materials or processes used to ensure your equal participation.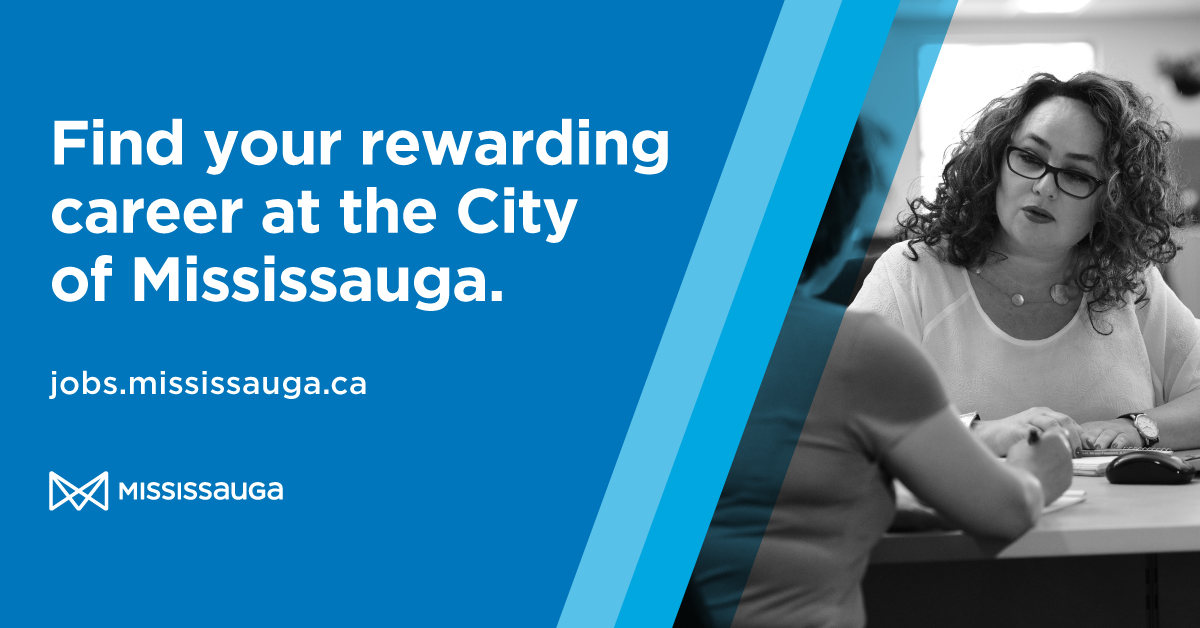 Apply now »