Assistant, Administrative
Req ID: 21001
Vacancy Type: Permanent 
Number of Positions: 1  
Closing Date: 01/27/2022
Duties and Responsibilities
Under the direct supervision of the District Manager, the successful candidate will perform a variety of administrative support duties for the various units in their section. (Sport, Customer Service Center, Community Development, Standards, Training, and Compliance & Volunteer's Units.) Duties will include, but not limited to:
Prepare correspondence, reports, agendas, minutes, manuals, documents and spreadsheets, etc.,

Perform a variety of administrative/clerical duties, including opening, sorting, preparing and distributing mail, maintaining current accounts, filing, works in progress financial files, photocopying.

Book and schedule appointments, arrange logistics for meetings, and prepare minutes, ordering supplies, preparing cheque requisitions for course attendance, subscriptions, etc.

Liaise with the public, all levels of staff, and members of council in response to inquiries relating to Sports, Community Development, Standards and Training as needed

Work cooperatively with Departmental and Divisional Coordinators of Customer Service and Administration, Coordinators of Concessions and Administration and Administrative Assistants as required.

Prepare presentation materials.

Assist with maintaining financial database information for projects related to Sports, CSC, CD and Standards and Training.

Enter all payroll data into SAP Time & Labour and provide R/3 support for the units identified

Support and back up for Administrative Coordinator, Recreation Perform other related duties as assigned.
Skills and Qualifications
Minimum completion of Grade 12 with some post-secondary, administrative assistant/business/recreation courses

Post secondary education in a related field a definite asset

3-5 years administrative experience or equivalent combination of education and experience.

Demonstrated proficiency in  MS Office suite, including Word, Excel; PowerPoint and OneNote.

1-2 years experience with Time & Labour (SAP), office automation (Outlook: E-mail, meetings, scheduling, calendars) and R3 (Requisitioner/Receiver) Access

Excellent organizational, oral and written communication skills. 

Strong ability to multi-task and effectively work with all levels of staff and the public.

Ability to prioritize and meet deadlines in a fast paced environment.

Knowledge of sports, community groups and events as well as other divisions supported by the Standards & Training unit considered an asset
#LI-CMS
Hourly Rate/Salary: $ 48,932.00 - $ 65,243.00 
Hours of Work: 35 
Work Location: Paramount Fine Foods Centre - Customer Service Centre
Department/Division/Section: CMS/Community Services Dept , CMS/Recreation Division , Sport & Community Development 
Non-Union/Union: Non Union 
COVID-19 Update: As per the City's Employee and Volunteer COVID-19 Vaccination Policy, all external candidates (including previously employed individuals) must show their Fully Vaccinated Confirmation or apply for and receive confirmation of a creed or medical exemption from the City before their first day.

A Criminal Record and Judicial Matters Check (Level 2) or Vulnerable Sector Check (Level 3) will be required of the successful candidate, at their own expense, to verify the absence of a criminal record for which a pardon has not been granted.

We thank all who apply, however, only those candidates selected for an interview will be contacted. You can also check your application status in your candidate profile online. 

All personal information is collected under the authority of the Municipal Act. 

We are an Equal Opportunity Employer. In accordance with the Accessibility for Ontarians with Disabilities Act, 2005 and the Ontario Human Rights Code, the City of Mississauga will provide accommodations throughout the recruitment, selection and/or assessment process to applicants with disabilities. If selected to participate in the recruitment, selection and/or assessment process, please inform Human Resources of the nature of any accommodation(s) that you may require in respect of any materials or processes used to ensure your equal participation.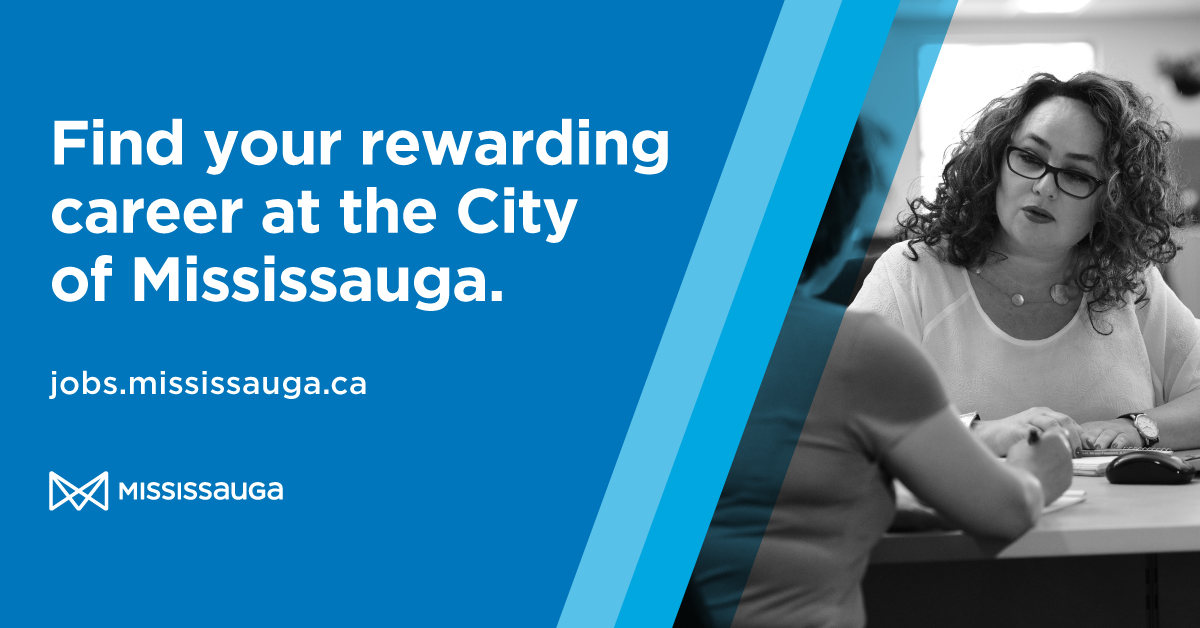 Apply now »