311 Information Specialist
Req ID: 20421
Vacancy Type: Permanent 
Number of Positions: 1  
Closing Date: 12/07/2021
Job Summary
The Information Specialist role is an integral one for 311 operations. This role collects, clarifies and translates business area call types and process requirements into knowledge base content. The Information Specialist role is also responsible for developing and delivering both all training for CSA, including creating presentations and materials that support a blended learning approach and that incorporates a range of learning methodologies to engage, evaluate and sustain learning within the 311 Citizen Contact Centre. They also lead groups through process mapping, information gathering sessions and provide support for front-line staff and/or users in various business units.They are accountable for the integrity and consistency of the information, document style, filing and search schematics to ensure that content is error-free and of the highest quality possible.
Duties and Responsibilities
Create and maintain knowledge base content and category requirements in knowledge base in a logical manner to be used for answering all inquiries

Conduct process mapping and analysis of current and proposed Business Units processes

Actively participate in new projects and initiatives (within 311 Citizen Contact Centre and Business Units), as well as champion new processes and technology

Develop and deliver training presentations and materials that support a blended learning approach and that incorporates a range of learning methodologies to engage, evaluate and sustain the learning within the 311 Citizen Contact Centre. 

Create supporting resources and training presentations for new technologies or technology upgrades.

Provide refresh trainings and conduct monthly huddle sessions to keep Customer Service Advisors up to date on relevant information and review general information to ensure consistency and fluency with information.

Monitor and respond to the KB.Info email inbox, respond to resident inquires and submit Service Requests to ensure requests are actioned

Work with the social media team to ensure key messaging is streamline between all media channels and 311

Analyze call type information such as service levels, call frequency, priority/urgency, and first call resolution versus service request submitted to Business Units

Provide clarification on knowledge base to Customer Service Advisors and Team Leaders

Point of contact between Business Units and 311 Citizen Contact Centre for any inquiry related to the Business Unit.

Perform research and analysis in order to improve 311 operational efficiencies in handling client inquires.
Skills and Qualifications
A degree or diploma in business or administration, preferred
1 to 3 years call centre industry experience with solid customer focus
Strong understanding of technology around customer relationship management, customer satisfaction metrics and call volume management
Ability to deliver high-quiality and engaging training to both large and small groups
Excellent problem-solving and communication skills - both written and verbal
 #LI-DNP
Hourly Rate/Salary: $ 72,088.00 - $ 96,120.00 
Hours of Work: 35 
Work Location: 950 Burnhamthorpe Rd W 
Department/Division/Section: CPS/Corporate Services Dept , CPS/Corporate Business Services Division , Customer Service 
Non-Union/Union: Non Union 
COVID-19 Update: As per the City's Employee and Volunteer COVID-19 Vaccination Policy, all external candidates (including previously employed individuals) must show their Fully Vaccinated Confirmation or apply for and receive confirmation of a creed or medical exemption from the City before their first day.

A Criminal Record and Judicial Matters Check (Level 2) or Vulnerable Sector Check (Level 3) will be required of the successful candidate, at their own expense, to verify the absence of a criminal record for which a pardon has not been granted.

We thank all who apply, however, only those candidates selected for an interview will be contacted. You can also check your application status in your candidate profile online. 

All personal information is collected under the authority of the Municipal Act. 

We are an Equal Opportunity Employer. In accordance with the Accessibility for Ontarians with Disabilities Act, 2005 and the Ontario Human Rights Code, the City of Mississauga will provide accommodations throughout the recruitment, selection and/or assessment process to applicants with disabilities. If selected to participate in the recruitment, selection and/or assessment process, please inform Human Resources of the nature of any accommodation(s) that you may require in respect of any materials or processes used to ensure your equal participation.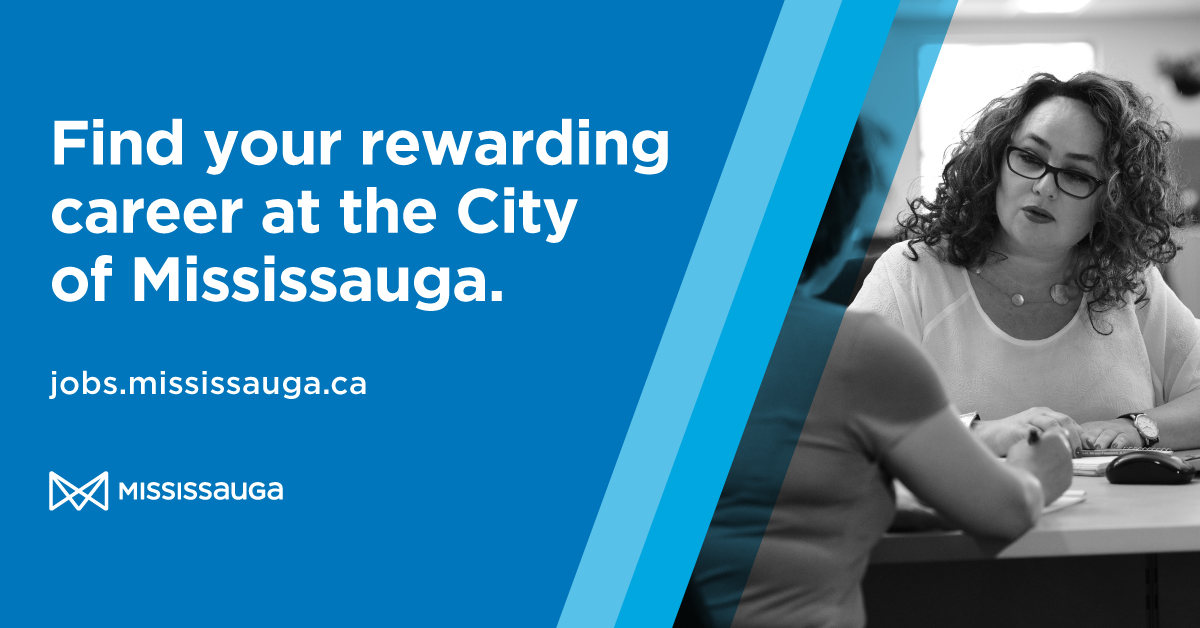 Apply now »