Law Clerk, Land Use Planning and Development
Req ID: 20923
Vacancy Type: Permanent 
Number of Positions: 1  
Closing Date: 01/28/2022
Job Summary
Working for the City means you are part of something big, something special!! You will be part of a team of engaging, enthusiastic and dedicated people who are committed to collaborating with one another to deliver on our commitment to the residents, visitors and businesses of Mississauga.
You can make an impact by joining the City of Mississauga's legal team.
Duties and Responsibilities
Reporting to the Deputy City Solicitor, Planning, Development and Real Estate Law, the successful candidate will provide support to the lawyers practicing in the areas of land use planning and development law and will be responsible for the following:
•    Conducting legal research in support of litigation matters before the Ontario Lands Tribunal (the "Tribunal").   
•    Preparing documentation related to land use planning Tribunal matters including pleadings, briefs of authorities and documents books and arranging for the service and filing of same with the Tribunal. 
•    Reviewing all documentation pertaining to appeals of Mississauga's Committee of Adjustment decisions in support of possible future Tribunal proceedings.   
•    Preparing staff reports for the Mississauga City Council seeking instructions with respect to Tribunal appeals.
•    Preparing charts, chronologies and summaries of evidence for use in Tribunal hearings.
•    Arranging and participating in meetings with client groups and retained land use planning experts.
•    Performing other assigned duties including communicating with client groups, opposing legal counsel and Tribunal staff.
Skills and Qualifications
Minimum 5-7 years as a law clerk in a litigation practice within a law firm or in-house legal department
Law Clerk Diploma or Institute of Law Clerks of Ontario Certificate (or equivalent education)
Professional demeanor and excellent interpersonal skills for communicating with client groups, lawyers and the general public
Attention to detail and strong organizational, investigative, fact-finding and problem-solving skills
Ability to prioritize workload independently and with sound judgment to both follow instructions with minimal supervision and take initiative as required
Knowledge of the Rules of Civil Procedure and relevant statutes
Demonstrated computer literacy in programs such as Microsoft Word and Excel.
#LI-CPS 
Hourly Rate/Salary: $ 72,088.00 - $ 96,120.00 
Hours of Work: 35 
Work Location: Civic Centre 
Department/Division/Section: CMO/City Manager's Office , CMO/Legal Services , Planning, Development, & Real Estate 
Non-Union/Union: Non Union 
COVID-19 Update: As per the City's Employee and Volunteer COVID-19 Vaccination Policy, all external candidates (including previously employed individuals) must show their Fully Vaccinated Confirmation or apply for and receive confirmation of a creed or medical exemption from the City before their first day.

A Criminal Record and Judicial Matters Check (Level 2) or Vulnerable Sector Check (Level 3) will be required of the successful candidate, at their own expense, to verify the absence of a criminal record for which a pardon has not been granted.

We thank all who apply, however, only those candidates selected for an interview will be contacted. You can also check your application status in your candidate profile online. 

All personal information is collected under the authority of the Municipal Act. 

We are an Equal Opportunity Employer. In accordance with the Accessibility for Ontarians with Disabilities Act, 2005 and the Ontario Human Rights Code, the City of Mississauga will provide accommodations throughout the recruitment, selection and/or assessment process to applicants with disabilities. If selected to participate in the recruitment, selection and/or assessment process, please inform Human Resources of the nature of any accommodation(s) that you may require in respect of any materials or processes used to ensure your equal participation.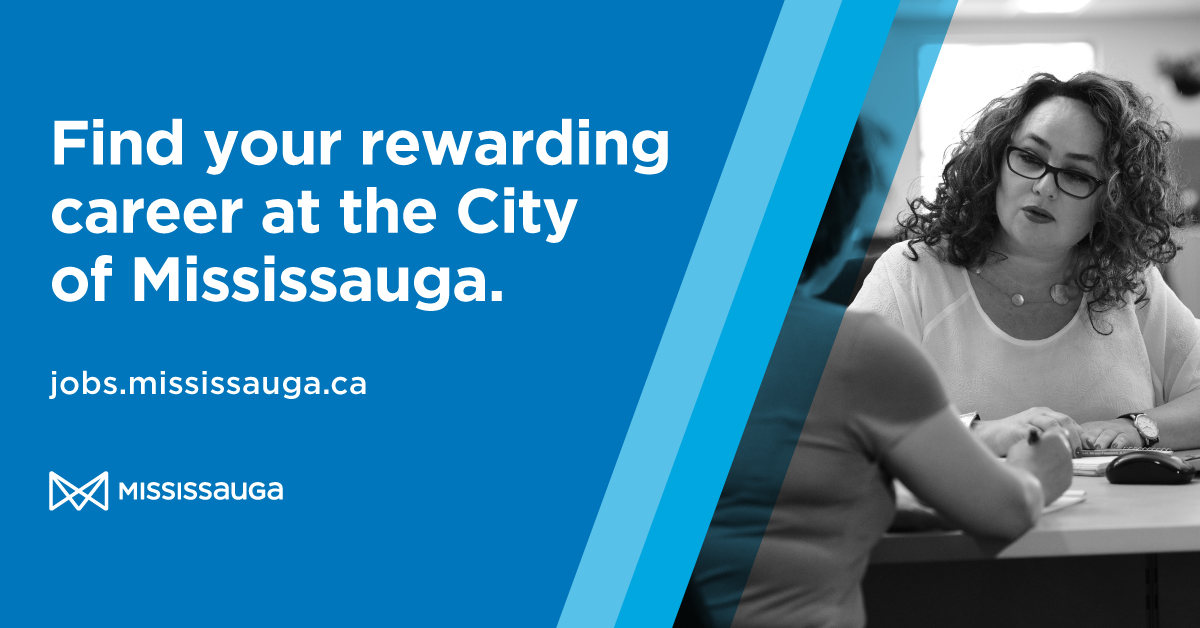 Apply now »