Front-end Application Developer
Req ID: 21018
Vacancy Type: Permanent 
Number of Positions: 1  
Closing Date: 02/03/2022
Job Summary
The City of Mississauga requires a Front-end Developer to join our Digital Team. Reporting to the Digital Team's Supervisor of Web Development, the successful applicant will be responsible for continuous development of our WordPress platform for front-end development.
About the Team
The Digital Team is working with people across our organization to make the City's online services and information simpler, clearer and faster for citizens and businesses. We're all about focusing on the customer, designing with evidence, and measuring our results. We work collaboratively and iteratively, so you'll be expected to work with our entire team, on many or all of our projects. Sometimes on short notice. That means working with developers, designers, architects, DBA's, portal administrators, content writers, senior management - anyone we need to, to help us simplify government services.
About You
As a Digital Team Front-end Developer, you understand how to develop solutions at an enterprise level. You are great at solving complex problems with elegant technical solutions and always keep scalability in your peripheral. You are very detailed oriented and can convert a design mock-up into an identical fully functioning theme. You highly value team collaboration and thrive to be a part of a high functioning team.
Duties and Responsibilities
As a member of the Digital Team, and reporting to the Supervisor of Web Development, you will be responsible for front-end app and template development working closely with UX designers to implement high-fidelity designs. You are expected to set scalable front-end standards that will be adopted corporate wide. Working in collaboration with other team members you will also be required to help lead core front-end development to meet business requirements. This position requires up to 85% of time developing front-end code.
Build responsive web layouts in collaboration with our UX team
Build front-end applications using JavaScript and JavaScript frameworks such as Vue.js while supporting many other libraries
Write semantic standards compliant code using HTML, CSS, JS
Practice user centered development with AODA/WCAG 2.0 accessibility standards
Create and modify PHP page templates conforming to WordPress Coding Standards
Be comfortable using SASS, Node.js, NPM, GULP
Integrate and help define RESTful API's
Write organized and concise technical documentation
Support Digital Team in requirements gathering and web project planning
Contribute to multiple projects simultaneously and meet deadlines
Assist with CMS administrative duties such as creating new users and assigning roles, URL management and redirections
Contribute to an efficient Agile development team practice
Possess a keen attention to detail and take ownership of the work, proactively diagnoses problems, runs QA, tests, debugs and utilizes creative problem solving skills to solve cross-browser and technical issues.
Work within a multi-tier deployment architecture (Dev, QA, Prod)
Work within a version control system such as GIT and CodeCommit
Identify, report and fix system bugs
Communicate effectively with non-technical professionals
Have experience in Agile development
Skills and Qualifications

•    University or College graduate in Front-end development or related discipline or equivalent working experience
•    5+ years' experience with front-end web technologies: HTML5, CSS3, SASS, GULP, icon toolkits, Bootstrap, JavaScript, JQuery and Vue.js
•    5+ years of development implementation, and support experience
•    A portfolio demonstrating web development capabilities and experience
•    3+ years' experience in IT project methodologies and concepts
•    Excellent communication skills both written and verbal
The following skills and experiences are an asset:
•    Advanced experience with WordPress core and WordPress development standards
•    WordPress multi-site configurations
•    Understanding of MySQL and the WordPress database architecture
•    Experience with Amazon Web Services and EC2
•    Municipal, Provincial, or Federal government experience
•    Performance benchmarking and optimization
The candidate will be expected to demonstrate their knowledge and skills during the interview and through a hands-on test.  You will be expected to bring your laptop to walk interviewers through examples of your work to demonstrate your skills.
#LI-CPS 
Hourly Rate/Salary: $ 82,049.00 - $ 109,400.00 
Hours of Work: 35 
Work Location: Civic Centre 
Department/Division/Section: CPS/Corporate Services Dept , CPS/Corporate Business Services Division , Digital Strategy & Experience 
Non-Union/Union: Non Union 
COVID-19 Update: As per the City's Employee and Volunteer COVID-19 Vaccination Policy, all external candidates (including previously employed individuals) must show their Fully Vaccinated Confirmation or apply for and receive confirmation of a creed or medical exemption from the City before their first day.

A Criminal Record and Judicial Matters Check (Level 2) or Vulnerable Sector Check (Level 3) will be required of the successful candidate, at their own expense, to verify the absence of a criminal record for which a pardon has not been granted.

We thank all who apply, however, only those candidates selected for an interview will be contacted. You can also check your application status in your candidate profile online. 

All personal information is collected under the authority of the Municipal Act. 

We are an Equal Opportunity Employer. In accordance with the Accessibility for Ontarians with Disabilities Act, 2005 and the Ontario Human Rights Code, the City of Mississauga will provide accommodations throughout the recruitment, selection and/or assessment process to applicants with disabilities. If selected to participate in the recruitment, selection and/or assessment process, please inform Human Resources of the nature of any accommodation(s) that you may require in respect of any materials or processes used to ensure your equal participation.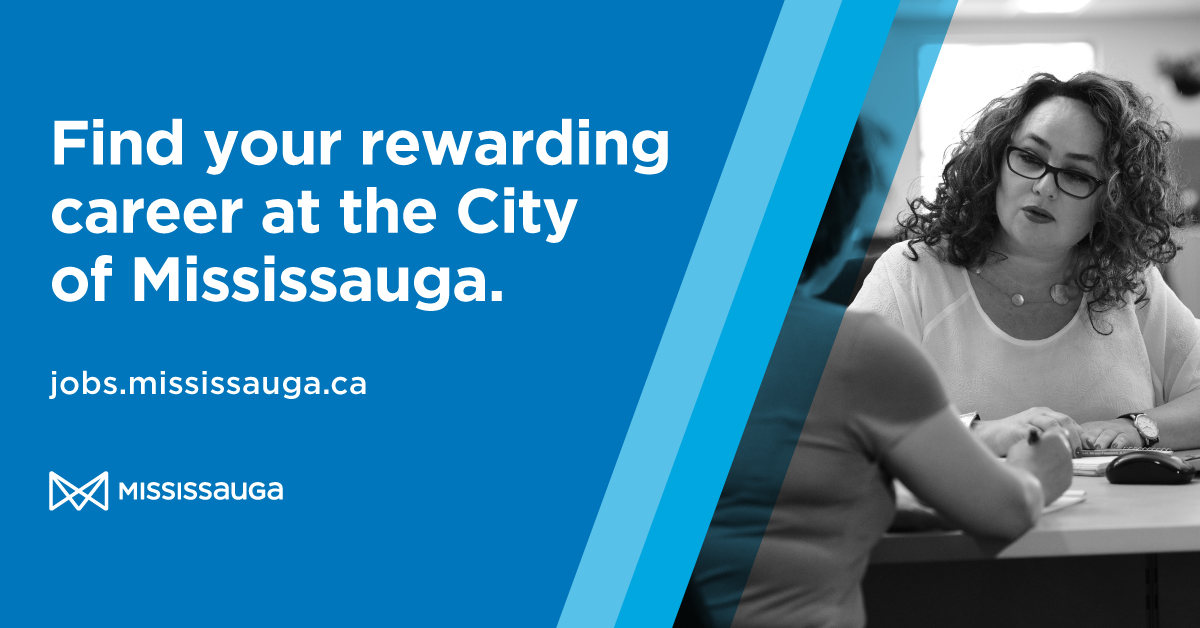 Apply now »